Keynote Speakers
Prof. Jifeng Yuan
School of Life Sciences, Xiamen University, China
Title: TBD
Experience:
Dr. Jifeng Yuan obtained his B.Eng. degree in Bioengineering from Xi'an Jiaotong University. He obtained Ph.D. degree in Biomedical Engineering from Nanyang Technological University. Prior to joining Xiamen University as a full processor, he worked as a research scientist at National University of Singapore (2012-2016), senior research fellow at Agency for Science, Technology and Research (A*STAR) (2016-2017), and research fellow at National University of Singapore (2017-2018). In 2018, he joined Xiamen University as Minjiang Distinguished Professor and started his own research group on synthetic biology and metabolic engineering. His research mainly focuses on implementing synthetic biology principles to build microbial cell factories for synthesis of natural products and value-added chemicals.
Prof. Jude Hemanth
Department of ECE, Karunya University, Coimbatore, India
Title: TBD
Experience:
Prof. Jude Hemanth is working as Professor in Department of ECE, Karunya University, Coimbatore, India. He also holds the position of "Visiting Professor" in Faculty of Electrical Engineering and Information Technology, University of Oradea, Romania. He has authored more than 150 research papers in reputed SCIE indexed International Journals and Scopus indexed International Conferences. His Cumulative Impact Factor is more than 250. He has published 37 edited books with reputed publishers such as Elsevier, Springer and IET. He holds professional membership with IEEE Technical Committee on Neural Networks (IEEE Computational Intelligence Society) and IEEE Technical Committee on Soft Computing (IEEE Systems, Man and Cybernatics Society) and ACM.
Assoc. Prof. HILAL Imane
School of Information Sciences/ Department of Data and Knowledge Engineering,Morocco
Title: Recent trends in cloud computing applications and challenges in industry and research
Abstract:The increasing use of Cloud computing due to the actual pandemic worldwide situation, and the enormous evolution of its services to meet the lockdown requirements, has caused many issues and challenges. in parallel, the volume of Big Data is exponentially growing, making its use for analytics purposes complex and problematic. Moreover, the quality of the captured Data impacts directly its analytics. In fact, if the data is not available, reliable, confidential, integral, and maintainable, the resulting decisions will be incoherent, biased, Or/And illegal. Therefore, to conduct successfully a Big Data project, it is necessary to dispose of data that meets the dependability requirements and to select a suitable cloud service to process it correctly.
The main objective of this talk is to present our work which focuses on providing a solution to the problem selection of the pertinent cloud service adapted to dependable Big Data. However, many trends and challenges will be discussed to open new horizons for researchers and industrials
Experience:
Dr. HILAL Imane is an Associate professor at the Department of Data, Content, and Knowledge Management of the School of Information Science (ESI), Rabat, Morocco. She Graduated from ENSIAS, University Mohamed V in 2009 as IT Engineer she got a Ph.D degree from University Hassan II in 2016. Passionate about computer science, she has been teaching IT for more than 10 years. During 2020, she got two professional certifications in cloud computing from Oracle and Huawei and a professional certification in Artificial intelligence (AI) from Huawei. She is currently the chair of the ASIS&T Africa Chapter, and the treasurer of the Research Center on Information and Data Science (RCIDS) hosted in ESI Rabat. She was involved in the organization of many International Scientific Conferences: SyscobIOTs19, ICSSD'19, SADASC'20, and ICSSD'21. Her main research areas are Cloud computing, E-healthcare, E-Learning, Decision support systems, and software dependability. She is a permanent reviewer in the International Journal of Computer Engineering and Data Science (IJCEDS), AiScholar and Editor Board member in InformationMatters.
Assoc. Prof. & Director, Jaishankar Bharatharaj
Bharath Institute of Higher Education and Research, India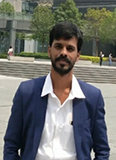 Title: Robots in Healthcare targeting Therapy and Companionship
Abstract:The increasing deployment of robots in recent decades has inspired new boundaries for human-robot interactions from manufacturing to health industries. Particularly, assistive robotics has found new directions in recent years and been used in numerous applications, including, elderly care, and autism therapy. With inspiration from nature, bio-inspired robots can provide solutions to various problems, which have been applied successfully in real-world situations. Specifically, animal-inspired robots have received notable acceptance in therapeutic and companionship settings, such as therapy for the elderly, children with autism spectrum disorder, and patients with dementia. A number of animal-like robots are developed to provide the benefits of animal-assisted therapy, while overcoming shortfalls, such as biting, allergies, and animal-spread diseases. Autism therapy is one such area for the deployment of animal-inspired robots to improve the lifestyle of children with autism spectrum disorder.
This keynote speech will discuss on robots in healthcare settings focusing on the benefits of the design and development of biologically inspired robots targeting companionship and therapeutic benefits including, learning, social interaction, and stress reduction.
Experience:
Jaishankar completed a B.Sc. and M.Sc. in Computer Science and Information Technology respectively. During his PhD at AUT (New Zealand), Jaishankar developed a parrot-inspired robot to improve learning and social interaction of children with ASD. His research has also proved to reduce stress levels of children with ASD through interaction with the parrot robot. He holds certification in quantitative research methods and engineering design methods.
Jaishankar's research interests are in healthcare robotics and investigation into the design and development of biologically inspired robots for therapeutic and companionships to human stakeholders. He is a co-founder of the PAIR LABS (India and New Zealand) that investigates the psychosocial aspects of robotics among various stakeholders across the globe.
Dr Bharatharaj is Section Editor, Review Editor, and Reviewer of high-quality journals in Springer, Frontiers, and IEEE transactions. He is also serving a member of several international conferences.
§ Jointly investigating with Harvard University, USA on replication of parrot behaviors and cognitive abilities to parrot-inspired companion robot.
§ Developing telepresence robotics for children with autism using AVATAR in collaboration with Tufts University and Empowered Brain Institute, USA.
§ Investigating the psychosocial aspects of various stakeholders including future robotics workforce, parents, teachers, school children, medical professionals, and members of Indian parliament.
§ Developing a wearable parrot-inspired companion robot for children with autism, and elderly.
§ Developing a companion robot for medication reminder.
§ Developed UVC equipped semi-autonomous robot to fight COVID and disinfect healthcare environment.